North Star Christmas Party
Great Success at our North Star, San Miguel and Gallinas Holiday Party. The decorating contest had some great participants. Fun was had by all.
2017 JL Gray All Company Meeting
JL Gray would like to thank all those who participated in making the JL Gray all company meeting a success.
Thanksgiving at Golden Acres
Thanksgiving Luncheon held November 6th at Golden Acres Senior Apartments in Portales NM. A turkey dinner was served, and residents brought side dishes and desserts. We had a fireman from the Portales Fire Department speak to our residents about fire safety.
Happy Halloween From Cibola Apartments
Recent troubles showcase amazing JL Gray team
The Roswell Summit Apartments were undergoing repairs when several leaks were discovered that required major intervention from NM Gas and several plumbers. Residents were without gas for up to seven days, but a caring and energetic team of JL Gray staff jumped in to take care of those residents. Gina Arambula, Jonathan Venturo, Francis Aragones and Shaundean Sisneros spent evenings and weekends cooking hot meals for residents to make sure they were well fed. Gina and Michael provided electric heaters and kept the community room open. Residents were very grateful for all the extra work the JL Gray team put in. "Never in my life have I seen people pull together and genuinely care for our needs like this staff did." said Jenna Vaughn. "I am so proud of our team," said Frankie Barnes. "They went above and beyond their job description." The property is back up and running now, but the team is still ready to tackle any challenge that comes there way.
Golden Acres Remodel
Cliffside I, II and III/USDA Success Story
Cliffside Apartments in Gallup NM served USDA summer meals this year along with hundreds of other RD multi-family housing communities. Read more here.
2017 Strikeout Homelessness Bowl-A-Thon
JL Gray once again sponsored the 2017 Strikeout Homelessness Bowl-A-Thon in Albuquerque New Mexico. It was great fun for everyone and benefitted a good cause. Manager Bree Shafer won a wilderness adventure, but truly we all won that day.
Xfinity day
Comcast held a tenant appreciation cookout 8/26/2017 at Westside Apartments in Belen NM. Over 70 hot dogs were served and fun was had by one and all.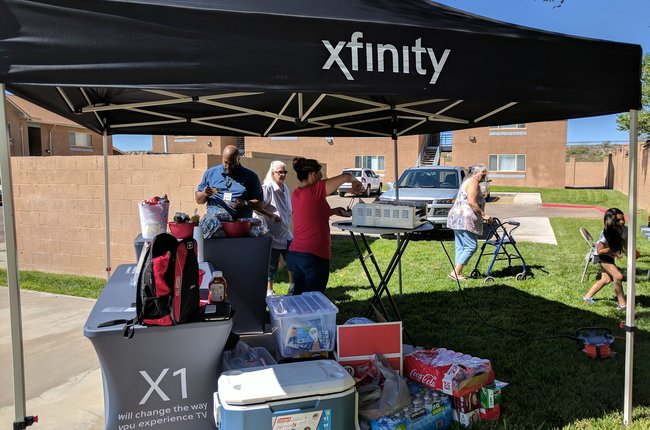 2017 Apartment Conference & Trade Show – People's Choice Award Winner
JL Gray would like to congratulate Oscar Rodriguez from Franklin Vista VI in Anthony NM, on receiving the 2017 Apartment Conference & Trade Show - People's Choice Award for his winning poster.