AANM 2021 Volunteer Day – Las Vegas, NM at Elks Lodge and local church
JL Gray would like to welcome Sun Terrace to our management portfolio
JL Gray would like to welcome Mesquite Village Texico to our management portfolio
JL Gray would like to welcome Main Street Townhomes to our management portfolio
JL Gray would like to welcome Parkside to our management portfolio
Bobby Griffith, CFO Speaks at GART Presents: NAA Leaders Take on the Greatest Legislative Threats to The Industry
Rental housing industry advocates continue to find themselves battling adverse policy that puts the financial burden solely on housing providers to bear the brunt of COVID-19-related impacts and prevent renter displacement. This approach to housing policy continues to exacerbate the housing affordability crisis, create a mountain of legislative and regulatory barriers to the operation of rental housing and slow much needed new construction.

If you are a government affairs professional, association staff or industry professional interested in advocacy, you will not want to miss this session. Watch the session at the link below.

Eaton Village Halloween Decorating Contest
The residents at Eaton Village Apartments rose to the challenge when it came to the Halloween Decorating Contest. 41 units participated and it was tough for our judge to pick a winner, but somehow they managed to do it. The 1st place winner was 9-101 with a Beetlejuice theme and they won a $50 Amazon gift card. 2nd place went to 9-201 with a Hocus Pocus theme and they received a $25 gift card for Dominos. The 3rd place winner was 1-103 with a graveyard theme and their prize was a $10 gift card for Sonic. Every participant did a great job and we are excited to see what ideas next year will bring!
Villa Feliz Landscaping Design
JL Gray has been awarded Platinum Status for the New Mexico Family Friendly Business Award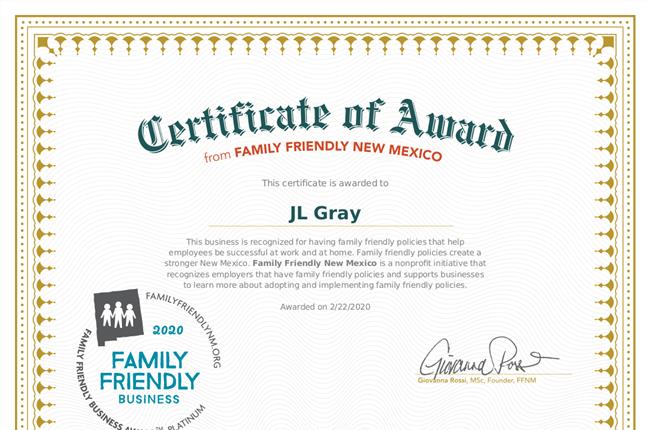 Tax Credit Application for Vista De Socorro